Sail Simulator 5 perfect for navigation training with WinGPS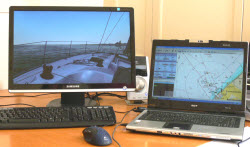 For the October Sail Simulator 5 release we have developed a NMEA implementation to a COM port. With a navigation program you can read the data from the instruments on board of the virtual ships in Sail Simulator. Besides being very entertaining, this is a very good opportunity to get familiar with your navigation program. Perfect preparation for the coming sailing season.

The NMEA implementation can be read with all GPS navigation programs which support the NMEA183 protocol. WinGPS 4 Lite and Navigator only require the RMC signal of the GPS. WinGPS 4 Pro and Voyager can also collect the wind, compass, log and depth data. With Voyager  you can learn how to plan routes according to the weather and even make polar diagrams of (for example) the virtual Bavaria 36 in Sail Simulator 5.

You can run Sail Simulator 5 and WinGPS on the same computer. An alternate solution is to connect your gaming computer and your navigation laptop with Bluetooth.

NMEA implementation on the same computer is very easily made. Sail Simulator 5 installs a virtual COM port, which allows you to establish a free Port number. For now, only 32 bits Windows OS (XP, Vista and 7) are supported. We will expand the support of 64 bits later.